---
Alvernon Park Improvements
RE: Permanent closure of Montezuma Ave between 3rd St and 4th St and redesign of the expanded Alvernon Park.
8/3/22 Tucson Parks & Recreation continues its work toward implementing changes in Alvernon Park. They are working with the Pima County Flood Control District on permits needed for changes to rainwater drainage through and out of the park. P&R plans to finalize the walking path and water retention basin designs in August. They have a request out for bids that will close in September and expect contruction to begin in October. P&R is working on a review of the irrigation system and new trees, especially vis-a-vis the walking path. No funds are currently available for upgrades though they have been requested.
7/1/22 Here is the draft map showing the proposed walking path alignment and two new rain water catchment areas along the west side of the park. No information is available as of this date about upcoming next steps in the process or how neighbors can ask questions or provide input. The full map is here.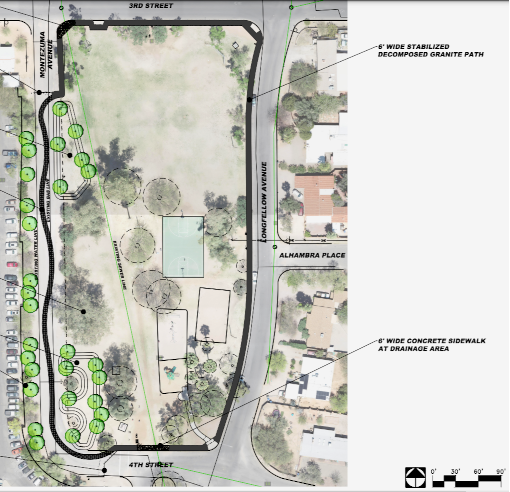 6/18/22 Project Manager Owen Long and administrator Greg Jackson from Tucson Parks and Recreation brought two copies on easels of the WLB Group's base map to the park for neighbors to review and comment. Following the meeting, Owen said: "Yes, thank you for having us at Alvernon Park. This is an exciting project and while the expansion has delayed building the walking path, this should be a more comprehensive design. The Concept should be up on the City website this week, and we will publish the next steps thereafter, so the neighborhood can be fully included. Thanks again." PHNA will post the Concept plan and next steps when they are received and will provide notice.
6/2/22 Tucson Parks and Recreation is ready to present the community surrounding Alvernon Park with the concept plan for the park expansion and walking path. Join us, in person, at the park for free coffee and doughnuts to view and discuss the plan. Location: Alvernon Park, 701 N Longfellow Ave Date: Saturday, June 18, from 8-9 a.m.
5/31/22 To preclude overnight camping, the City of Tucson arranged for the installation of some temporary fencing on the west side of Montezuma and in the SW corner beside Alvernon Park.
5/17/22 Owen Long: "The Abandonment of the Montezuma Ave. road section and inclusion into Alvernon Park is still pending. The Parks and Recreation Department is not the primary on this portion of the future expansion. My understanding is that there are some on going negotiations are between the COT Department of Transportation and Property owners (Particularly the land owner of the adjoining medical offices). I have no timeline to share at this time. [You] will be made aware of our next steps as soon as this gets sorted out.
The WLB group is working on a survey and base map, that simply includes the existing conditions, with an emphasis on Storm water and Utility Issues. We will get the engineering aspects of the proposed project on paper so that we can begin to get full neighborhood input.
The camping scenario on the edge of Montezuma Ave is unfortunate and will have to be handled through communication with TPD. I'm sorry this news is not more positive, but we do not have jurisdiction over the street and adjoining properties yet. Again, I will notify all stakeholders as soon as there is any forward movement." — More Information
---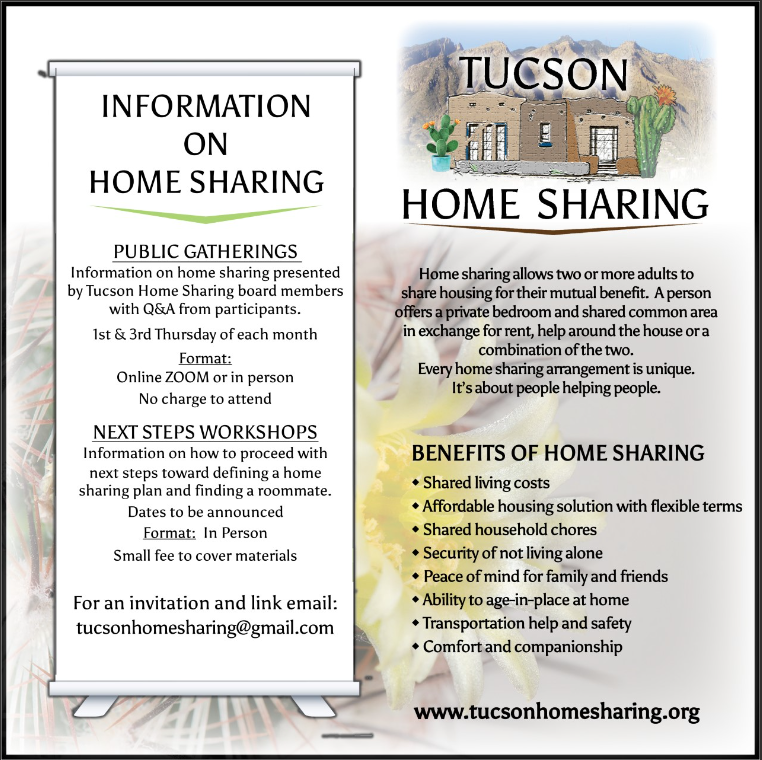 ---
Voting is More Important than Ever.
Click HERE to go to the Pima County Recorder's Office for all the information you need for both Early and Election Day voting for the for November 8, 2022 local, state and federal elections. As needed, you can complete a voter registration form to: 1) Register to vote 2) Change your name 3) Change your address or 4) Change your political party. Click here to check your registration status.



---
Recycle containers (blue bins with no glass) should be placed at the curb on: Aug 22, Sep 6 (Tue) and 19, Oct 3, 17 and 31, Nov 14 and 28, Dec 12 and 26, 2022.
---
Each week, Ward 6 City Councilman Steve Kozachik prepares a useful summary of city-wide issues and news – his newsletter is available here.
---
*Entries on this page may be borrowed from various sources with appreciation